MORE THAN PINS
Accessories
HOW CAN CUSTOM LOGO ACCESSORIES HELP YOUR BUSINESS?
After a name, one of the first things many businesses choose is a logo. Creating that identity for your company is very important to its marketing plan, but creating it isn't enough. You also need to put your logo to work with quality marketing items that find your customers wherever they are. A great first step in that direction is lapel pins. They provide a perfect pop of color to draw a customer's eyes to your logo, and they work in any setting, regardless of attire. With lapel pins as a starting point, you can explore the other directions you can take with your logo.
SPORTING ITEMS
The golf course has been one of the most common locations for business transactions for decades. Countless business conversations take place on carts and greens, because it's an environment that's relaxed, private, and quiet. That makes it a perfect place to promote your business. Getting your logo onto tees and ball markers puts your name right in front of those important foursomes as they think about which companies to do business with. If they have put a few bucks on the line for each hole, your logo will get some good exposure on their money clips.
INNOVATIVE APPAREL
Maybe you've had embroidered caps and polos for years, and you know how well they can perform for you. But what about something off the beaten path, like earrings? Imagine the value of a great conversation piece hanging right on your employees' ears. The client's entire interaction with your team member is framed by two helpful reminders of what your logo looks like, increasing the odds that you'll be remembered later on. We can also create charms that your employees can wear as they demonstrate products or show paperwork. Once again, the client is viewing something else, but your logo is still right there, reinforcing your name and image.
WORK & STUDY AIDS
Good logo use is all about balance. You want the logo to be visible as often as possible for as long as possible, but without being the sole focal point. Excessive use of a logo can be a distraction, so you need some more subtle tools for keeping your name out there. A great choice is a bookmark. It keeps your name close at hand as potential customers read through sales reports, audits, or even just a great summer novel, but without creating a nagging presence. In other words, it's in their face without being "in their face". In an age of digital marketing and social media, the tried-and-true methods don't always get the respect they deserve. Logo items have always driven people to businesses, and they always will. Starting with traditional items like lapel pins and then diversifying your marketing plan with innovative new logo items will do more than you might expect to improve your bottom line. We offer a wide selection of accessory upgrades to complement your logo or design. Don't see what you are interested in below? Just give us a call and we can provide additional options!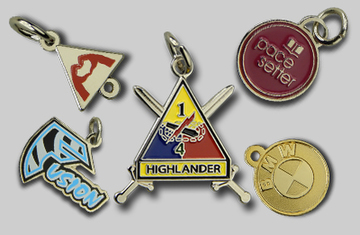 CHARM LOOP WITH JUMP RING
We can add a loop and jump ring to your pin design to create a beautiful charm to be worn on either a necklace or bracelet.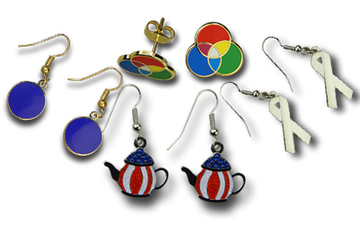 EARRINGS
We can also turn any pin design into beautiful sets of earrings, offering both post and hook attachments.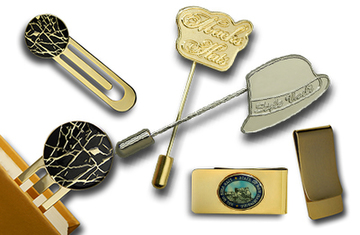 HAT PIN, MONEY CLIP, GOLF BALL MARKER, BOOK MARK
We can use your pin design to make a number of fun yet functional accessories for everyone to enjoy!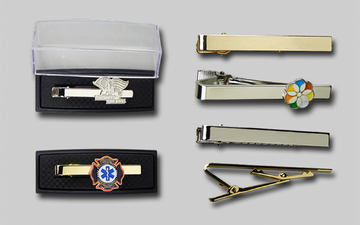 TIE BAR
Stop putting damaging holes in your tie. Our tie clips hold your ties in place without damaging the fabric. We will use your custom pin design to create a functional, yet stylish tie clip that appeals to your fashion sense.
CUFFLINKS
Our custom cufflinks are perfect for business attire or your big night and will coordinate beautifully with your lapel pin and tie bar!